NEW: In Germany
€ 0 toll until December 31, 2023
Protect the environment and save money!
Drive ecologically
Bio-CNG and Bio-LNG - the fuel for a greener future. With the IVECO S-WAY NP, you get a clear lead over comparable diesel trucks when it comes to environmental and climate protection:
reduce NO2*
reduce soot particles*
up to 95% less CO2 when using Bio-CNG/Bio-LNG**
Drive ecologically
Secure considerable savings potential and continuously more liquidity with the IVECO S-WAY NP
toll-free throughout Germany - up to 31.12.2023
significantly lower fuel consumption compared to diesel and economical on the road without any AdBlue
Longest maintenance interval at maximum performance
Save toll
18.700€ per 100.000 km
37.400€ per 200.000 km
56.100€ per 300.000 km
Drive the new way!
Discover our Natural Power stock vehicles and save money.
With one click to the right truck.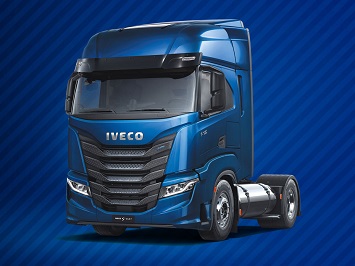 Erdgas
*NO2, and soot particles compared to a comparable diesel truck
**Up to 95% less CO2 emissions (WtW) when using Bio-C/LNG compared to a comparable diesel truck